Harpenden window cleaning Ladders
Harpenden window cleaning ladders, we have the right ladders to handle every job safely and efficiently. We are used to working on all types of buildings, old and new. In some cases the only way to get to the window to be cleaned is with an A frame Ladder. We have a large collection of A frame ladders with a hight range right up to 30 feet.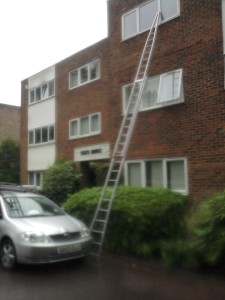 They can be positioned so that they are secure and safe to climb without slipping. The top of the A frame is made of rubber so as not to damage window frames. The time it takes to put up the ladder is extremely quick as there are only two sections. The ladders are designed and manufactured by Ramsay ladders of Forfar in Scotland, they are the best Window cleaning ladders on the market. There are a large number of houses with dorma windows and roof top window that Harpenden window cleaning ladders can reach with ease so give us a call on 07757499296 to get all the windows in your house cleaned. We can always call round and give you a quote or we can look at your property on google maps and give you a good estimate.