Pure reflection Harpenden Hertfordshire
The power of pure water can be seen in this photograph Pure reflection Harpenden Hertfordshire. When windows are cleaned with pure water they are left sparkling and clean. This includes the frames. The process is quite straight forward as the water is prepared on our premises and transported to your location. There  it is used to wash your windows and frames either with a pump or by hand.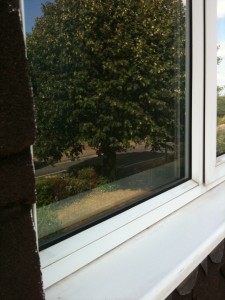 Eco Friendly
The water purification is Eco friendly.  The discarded  elements can be used to water plants in our garden. Eccover can be added to the finished water which cuts through grease and grime. Ecover is made in ecological factories which are energy efficient .running clean and green systems of production.
Sticky residue from trees
Sticky residue from trees, especially Oak trees, can be a problem . our system easily removes the residue. You can see the reflection of a very large Oak tree in the photo. After cleaning you can see that the windows and frames are left clean and sparkling. All in  all the way that we clean you windows has become incredibly popular. The fact that we can clean in a traditional way with modern products means that the result is superior.