Rothamsted Park
Rothamstead Park, Harpenden early Autumn on a sunny morning is truly spectacular. It is a timeless place. It has a wonderful Avenue of Lime trees creating shadows on the the path leading you on a gradual incline up to the fields.  Crops are used to find solutions to the worlds greatest agricultural problems and dilemmas. This is a fantastic place to relax. The surrounding county side takes you away from the stress of everyday life.
Rothamstead Park, a great place to be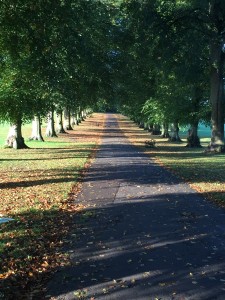 The Park has always been a brilliant place to take your dog for a walk. Many owners feel at ease to let their pets off the lead and have a really good run unhindered by traffic, All in all it is a beautiful place to be at any time of year. Harpenden window and gutter cleaning services; at one time based just to the side of the park in Leyton Road, now operate from Milton Road which is a stones throw from most of our clients homes and businesses. This picture was taken in early September just as the leaves begin to fall. In a short time the Autumn winds will leave the trees bare ready for winter. When snow eventually arrives the park is crowded with sledgers and snowboardes as there are some great dips and slopes to have fun on.