Office Window Cleaning
We are very experienced in Office window cleaning. When we arrive at an office block we carry out a risk assessment. In 99% of cases every window is able to be cleaned. We ask the client if they prefer to have external windows cleaned from Ladders or with waterfed poles or a combination of both methods. All windows that cannot be reached off of ladders will be cleaned with pure water and waterfed poles.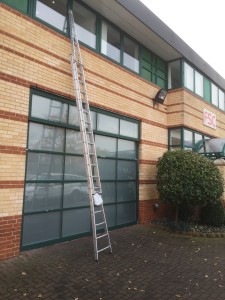 Internal Windows
Internal windows are cleaned with the minimum of disturbance to workers. We try to get around office desks and computers as quickly as possible. Minimal water is used when inside so as not to leave any drips on paper work etc. If meetings are in progress we can call back later to complete the job.