Clean Windows in the Roof
To clean windows in the roof you need to be able to access the windows properly so that you can make sure the whole window pane as well as the frames are clean. This can be a difficult task if you do not have some experience working with ladders and the right equipment. We are cleaning all types of roof windows every day and have created techniques that are efficient  and effective. Roof windows have become more popular as roof space is converted into an extra room. If these windows are not cleaned the light can be impeded and the room can become a bit gloomy.

You often need to work from uneven ground, this means that we can either use water fed poles that can be extended to 40ft or secure a ladder so that it will not slip and work from that. If we are able to climb up to the level of the window we can check out the guttering and the roof at the same time.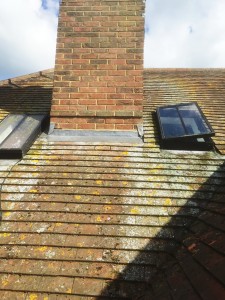 In cases where the previous window cleaner  has not been able to reach the roof windows and they have not been cleaned for years the glass can get covered in algae. After we have cleaned them the end result can be brilliant as the window is left shining letting more light into the room. This brightens up the appearance of the house from the outside too. If you would like your roof windows cleaned contact Kevin on 07757499296