Skyvac Gutter clean

Skyvac gutter clean, Harpendenclean now have the award winning SkyVac Gutter cleaner with inspection camera.
The skyVac is specially designed to suck up moss, leaves, mud and silt from guttering at height. Sky Vac also has a number of features that make it ideal for gutter cleaning. First of all it has a side entry cyclone inlet that creates tremendous lift. Skyvac also has a large variety of end tools that can get into the most awkward areas.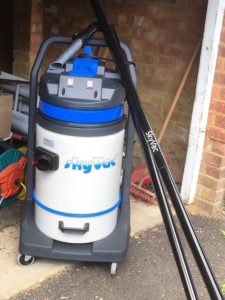 Harpendenclean can inspect your gutters with a camera attached to a telescopic pole. Your guttering will be  inspected  inside as well as outside with an HD camera no matter how high. Your roofing can also be inspected simultaneously. Recorded  images are very clear and any problems with your guttering will be detected.
 Harpendenclean have modular Carbon poles that reach up to 49 feet and specialist ladders that reach up to 32feet . They will be used to access all areas.
Harpendenclean can clean and repair your gutters quickly and efficiently with ease. The Sky Vac machine is an extremely powerful piece of equipment and we are able to reach up to all areas around the roof. Furthermore Harpendenclean also have specially adapted drain rods and brushes to fit onto tight spaces.
Gutter replacement
If you gutters are old or broken Harpendenclean can remove and replace them. An experienced operator will remove your old guttering, measure up and replace old with new guttering of your choice improving the appearance of your property.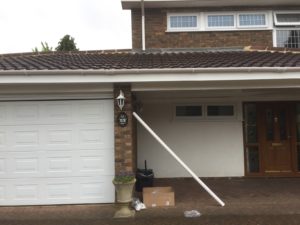 H C can also install water butts with diverters. Using rainwater from your roof for your garden etc will also save you money.  
Contact us
When you contact us we will call round and video all round the roof line. If there are any problems we can either reach up with ladders or suck out debris from the ground with the award winning Sky Vac Gutter machine. Phone or text 07757499296 email: elm@clara.co.uk